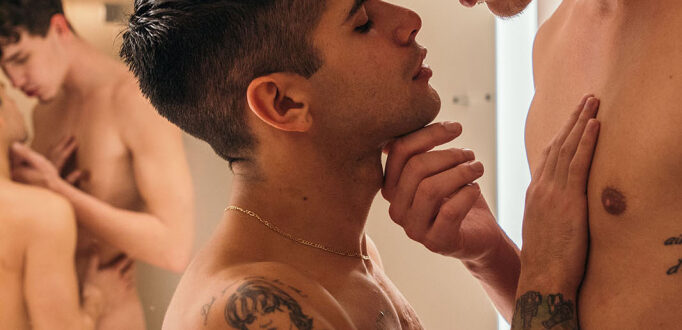 Küper & Ty Mitchell
Are a Cancer and an Aries compatible? Küper & Ty Mitchell make the case for it in a condom-free scene that takes you sensuous to wildly hot & sweaty sex. The guys get to know each other in a warm bath in which Küper can't get enough of sucking Ty's toes. In return Ty plays footsie with Küper's cock before they make out extensively, only stopping so Ty can suck Küper's big dick.
Küper turns his attention to Ty's bubble butt which he rims & teases several ways before taking him to the bathroom. Lying Ty on his back Küper eats his hole some more before plunging deep into him over and over until he gets used to it. Soon after, with his cock buried inside Ty, Küper carries him to the living room to have him put on a butt show. Küper rims Ty who soon is riding him and energetically taking his deep thrusts.
In time Küper brings them down a bit so he can feed and face fuck Ty. Ty deep throats him and soon Küper spins him around and flips him over to fuck him from behind and screw him to the bed. Küper works up a sweat jack-hammering into Ty and pulling out just in time to glaze his ass and pump back into him. Küper pulls Ty back to ride his cock and soon shoot HIS load all over himself. Küper feeds it back to Ty and they just lie back, spent and content.
Click here to see the full Cockyboys Video Scene!