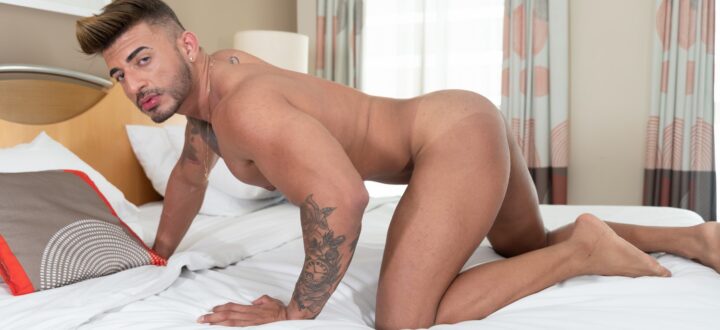 Lucas Flips for Muscle Stud Guto
Tan, tatted, hung with a big pouting mouth made for cocksucking, Guto Abravanel is a sex cartoon come to life. His muscular pecs are massive and crowned with big fat nipples, and his scruffy little beard make him a man's man with an insatiable appetite for dick. He drools a gob of spit as dark-skinned Lucas Scudellari slides his curved brown cock into that hot fuckhole of a Latin lover mouth. Lucas perches on all fours at the edge of the bed for Guto to eat him out, then rises to his knees as the two raw fuckers grind their bodies together.
Guto has a great big muscle ass and Lucas plants both hands on to rim and lick that hole. Guto's jaw drops open as he dreams of getting Lucas' dick into his smooth juicy ass. Guto grimaces with intense passion as Lucas pumps his bareback cock in, grabbing a shoulder to get deeper inside. Guto holds a pillow in both hands and sticks his butt up to meet every deep thrust. It's time for Lucas to get some dick for himself, so Guto chews and slobbers on his honey-colored hole before drilling in deep. Grabbing both hips, Guto aims straight and hard as he plows his cock into Lucas' round smooth booty. Lucas closes his eyes and lets out a guttural moan when Guto speeds up, no stopping now! Lucas keeps his face right up in his buddy's crotch as Guto milks out a thick white load. He eats every drop and spurts his own splatter of cream for Guto's cumhungry mouth.
Click HERE for the Full Video!